Dota 2 Betting | Dota 2 bets
What is Dota 2?
Dota 2 is free-to-play multiplayer online battle arena (MOBA) and the sequel to the hugely popular Warcraft 3 modification Defense of the Ancients. It is known for its competitive scene and has since 2011 given out over $23 million in prize money, more than any other game. Over 10 million players play Dota 2 every month and it's one of the most popular games today.

How is Dota 2 played?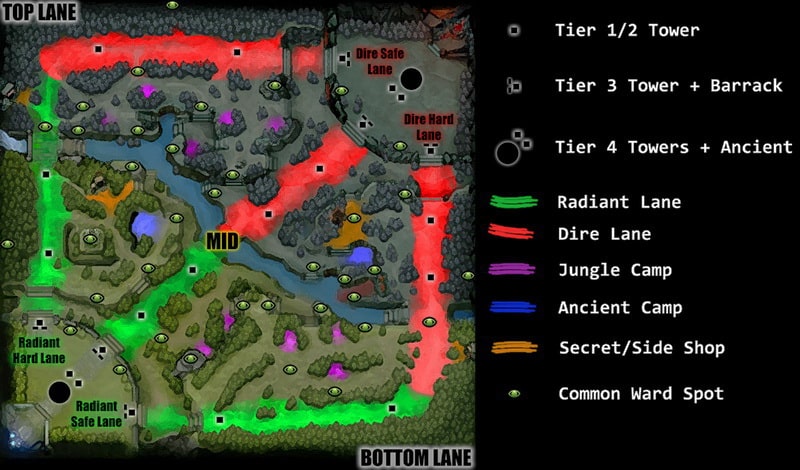 In the game, players are split into two teams (Radiant and Dire) consisting of 5 players each where the main objective is to destroy the other teams Ancient, a large structure in each base. You can pick from over 108 heroes all with their own unique abilities and playstyles. Every hero begins at level one and as the game progresses you accumulate experience which can be used to upgrade your abilities and stats.
The map has three different lanes, the top, mid, and bottom lane and each leads to the other teams base. These lanes spawn waves of creeps every 30 seconds and killing them grants your hero experience and if you land the killing blow on the creep you are also awarded gold. The gold can be used to purchase items from the different shops located on the map. Every lane also has 3 towers that attack any creeps or heroes that are near it and they have to be destroyed in order to make the enemy base vulnerable.
Dota 2 tournaments

Starladder
Having started in 2011 this is possibly the most famous tournament outside The International. It features some of the best teams from Europe, America, SEA and China. They run an online group stage for each region and those who qualify travel to the LAN event held in Ukraine. The latest season gave out over $250k in prize money.

Dreamleague
Run by Dreamhack this is also a very big tournament. It features top teams from all regions with online group stages and finals held at Dreamhack Summer and Winter every year.

XMG Captains Draft
An online tournament run by the popular youtube channel Dotacinema. What differs this tournament from others is that all the matches are played in Captains Draft instead of Captains Mode. This often results in much different hero picks and a lot of upsets by lower tier teams.

ESL One
Electronic Sports League (ESL) arrange several dota 2 tournaments every year. This year they have had ESL One New York which was played in Madison Square Gardens and ESL One Frankfurt in Commerzbank Arena, a football stadium with a capacity of more than 52.000.

The Summit
A tournament organized and casted by the popular dota 2 studio Beyond The Summit with 2 events each year. It features the best teams from all regions and finals held at the BTS studio.
More eSports markets
Dota2 is far from the only eSports game out there that is available for betting. Check out CS:GO if you're into Counter-Strike: Global offensive. Also, great betting tips for League of Legends, lots of useful information if you want to succeed with your LoL betting career.
If you're looking for eSports betting information in general, we highly recommend  betting-leader.com. These sites are stacked with the best bonuses, sportsbooks reviews, explanation on how eSports odds work and lots more!
Can You Bet on Dota 2?
Yes, you can bet on Dota 2. A wide range of competitive events is available for you to place your bets on. Watch your favorite team matches via live streaming. You can also bet on more than one match during a single event such as a Dota 2 tournament.
Where can I bet on Dota 2 matches?
Among the many eSports betting platforms, GGBet is probably the best one offering a multitude of options for betting on Dota 2 matches. You'll find a wide betting market with really good odds and plenty of events to bet on. What makes GGBet stand out from the crowd is that it offers fair and transparent betting conditions for its users.
Is GG bet safe?
Yes, GG bet is a completely safe eSports betting platform for several reasons. Firstly, it operates under the license issued by the MGA, Malta's reputable regulator. Secondly, it ensures fast and secure financial transactions. Third, it provides quality customer support with support agents available 24/7. That being said, GG bet is an option you can trust with your deposit.
How profitable is Dota 2?
Betting on Dota 2 can be a fun and very lucrative activity, and here are some reasons why. This game was released by the company that owns Steam, a powerful gaming platform that revolves large amounts. Despite being introduced back in 2013, the title is still very popular with punters and bettors alike. Statistics show that the revenue generated by the game is growing year on year.
How do you win bets in Dota 2?
GGBet offers plenty of betting options, including a handicap, which is the safest bet. For example, betting on team number 1 +1.5, you will make a profit whether the team wins 2-0, 2-1, or even loses 1-2. However, if your favorite team loses 0-2, you will lose your bet. Alternatively, you can opt for riskier betting options that promise bigger payouts.
How do you withdraw from GGBet?
You will be able to carry out all financial transactions via the Clerk section of the GGBet website. Simply log in, click the Clerk tab, select your preferred banking option, specify the withdrawal amount and confirm the transaction.
Which Moba makes the most money?
Among a variety of MOBA games offered by the gaming industry today, there are a few that are generating the most revenue. For example, Honor of Kings, which grossed around $75.6 million, holds the record for profitability as of September 2021. Notably, much of the revenue is generated through the in-app buy feature.
How does Dota earn money?
While you do not need to pay any admission fee or purchase a subscription plan to play Dota 2, the game has an in-app purchase feature that generates the largest share of the revenue for Valve, the game's parent company. In addition, there is an official online store and community marketplace where Valve takes a share from each transaction.
Why is the DOTA prize pool so large?
Dota 2 is a game that boasts a very large prize pool for several reasons. One of them is that Valve, the company known for developing CS: GO and Dota 2, uses a crowdfunding model where players are motivated to buy various game items from Valve by paying quite a lot of money for them.